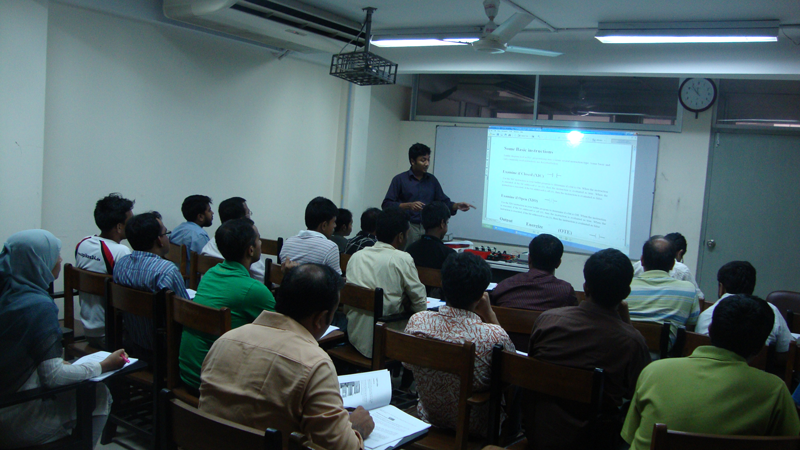 Workshop on Programmable Logic Controller(PLC)
EVENT DESCRIPTION
A day-long "Workshop on PLC" was organized by the Department of ECE on 19 June 2010 in the Room # 6003 of Presidency University's Banani campus. The workshop was conducted by Engr. SM Shamim Reza and Engr. Adeeb Ahmed, Lecturers of ECE Department. Around twenty undergraduate students of ECE Department participated in the seminar. Engr. Muhibul Haque Bhuyan, Assistant Professor of ECE Department also participated in the workshop as an expert observer.

In the first half of the workshop, students were given the history of PLC. Then they were taught the basic PLC commands, after that few example programs were shown. Allenn Bradley PLC of LJ Technical systems were used to demonstrate the examples of PLC programming. Then a lunch break was given. Lunch from PU cafeteria was served among the participating students and instructors by the ECE department.

In the second half of the workshop, simulation programs were conducted in the Computer Laboratory at Room # 3007 of Presidency University's Banani campus. PLC simulation program LogixPro was used for this purpose. Finally, Dr. Tapan Kumar Chakraborty, Professor and Head of the ECE Department, in his concluding speech explains why this university is one of the top universities in the country in terms of its quality education and hopes that the students will be benefited from this workshop and also assures that the ECE department will continue to organize this type of seminars and workshops in near future. He also extended his thanks to all involved in the workshop.
Organized By
Department of ECE
Location
Banani Campus, Presidency University
Event Information
| | | |
| --- | --- | --- |
| | Category | Workshop |
| | Start Date | Jun 19, 2010 |
| | End Date | Jun 19, 2010 |
| | Start Time | 10:00am |
| | End Time | 05:00pm |